BDJ Holo Notebook
ACHIEVING CLARITY THROUGH WRITING!

Inspired by the Belle de Jour Power Planner's 15th Anniversary, we have created a notebook that can be your companion in your everyday life. With a softbound leather cover and rainbow stamping, this planner has a classy look.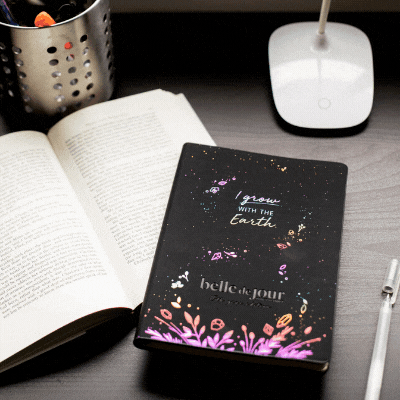 This is a perfect notebook to write down your ideas, make meeting notes or just keep important information. You can freely write your thoughts so that you can have a clearer mind each day. 



FEATURES: 


BULLET JOURNAL FRIENDLY:

 

We've also improved the dot printing to make it even more bullet journal–friendly. Each page has 32 rows with 5mm dot spacing. Perfect for all your creative bujo ideas.


CUSTOMIZABLE:

 

You can choose to have your name or any 10 Character words on the front cover.


FSC CREAM PAPER:

 

As part of saving the environment, we are using Forest Stewardship Certified paper.


HIGH-QUALITY: The inside pages contain top-quality, ivory-colored paper. It can be used as a travel journal, planner, or notebook for personal reflection.



SPECIFICATIONS:

14.3x20cm​
100gsm​
Round corner​
80sheets (160pages)​
For full specifications, you can check the SPECIFICATION TAB


PACKAGE INCLUDES:


CUSTOMIZATION IS NOT VALID FOR COD. COD ORDERS WITH CUSTOMIZATION WILL AUTOMATICALLY BE CANCELLED.