Quest Holo Medium Undated 12-Months
LET YOUR CREATIVITY, IDEAS, AND THOUGHTS SHINE THROUGH!
This journal is
 

beautifully made, both inside and out.
 The outside of the journal has been 
carefully molded to feature high-quality Holographic PVC for a glossier, iridescent look and feel.
 This vibrant cover can perfectly protect your inserts and mold your ideas together in one place.

No wonder it's the one adventurers love to carry with them everywhere. T
his journal can help you push boundaries and make your imaginative journey a colorful experience.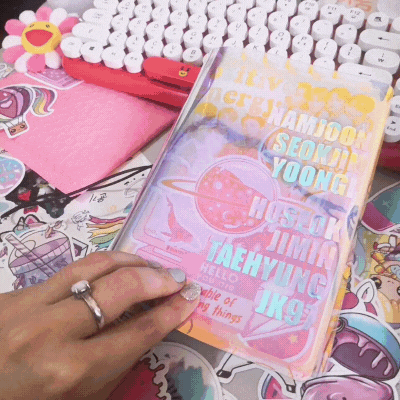 FEATURES:
IRIDESCENT COVER:

 

The holographic Quest Journal is a beautiful and practical journal that can inspire you and bring out the best in you creatively.


DURABLE:

 

Made of High-Quality material you can be assured that your thoughts will stand out from the crowd.


VERSATILE:

 

Use your Quest Journal to write down your thoughts, goals, to-do lists, contacts, schedules, and so much more.


POCKETS:

 

This notebook features an innovative storage system that allows you to store multiple inserts and designs at once without compromising on the beauty of each individual one.


UNDATED 12-MONTH CALENDAR:

 

It has a 12-month undated calendar so you can create your own calendar plans. Plus 1 blank notebook that is great for all types of writing. All inserts are refillable so you can reuse the leather cover for a long period of time.


SPECIFICATIONS:
14.5 x 19.5 cm
Includes PVC pocket with cardholders and zipper
With (1)12-Months Undated Calendar
With (1) Blank Notebook
100gsm, 80 pages
PACKAGE INCLUDES:
1x Quest Holo Medium Undated 12-Months