Dare To Be Card + Quest Journal Holo Cover Bundle
ARE YOU TIRED OF THE SAME OLD ROUTINE?


Make time for a better you

You're going through a hard time. You feel like you're drowning in a sea of uncertainty, and you don't know how to get out of it.
This bundle is perfect if you're having trouble creating ME-TIME for yourself
it's an easy way to get started on a positive habit that will last throughout your life.
Simple yet high-impact activity

The Dare to be Cards offers an engaging activity and message that can help you know and love yourself better.
Pair it up with the Quest Journal where you can write and further reflect on each card you pull.
You can also use it to write down your thoughts, goals, to-do lists, contacts, schedules, and so much more.
Create a Therapeutic Habit for yourself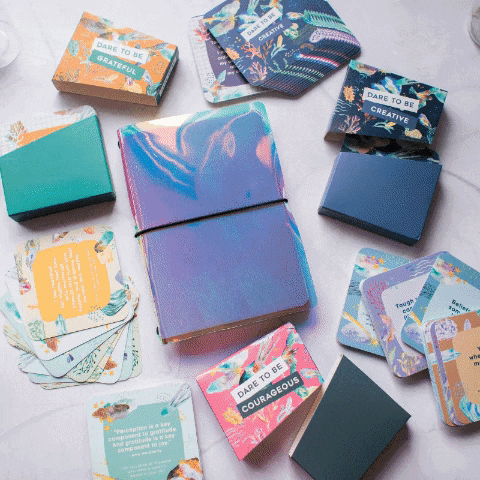 FEATURES

ENGAGING:

 

The entire Dare to Be Card deck can be used in an order according to your manner of choosing or shuffled for random guidance. When you pull from your truest self, you share that meaning in everything you create.


IRIDESCENT COVER:

 

The holographic Quest Journal is a beautiful and practical journal that can inspire you and bring out the best in you creatively.


MADE TO LAST:

 

Made of High-Quality material you can be assured of its durability.


REFILLABLE:

 

The Quest Holo Journal inserts are refillable so you can reuse the cover for a long period of time.



SPECIFICATIONS:

56 Cards per Deck
Card size: 8.9 x 8.9 cm
Quest Medium: 13.2 x 18.1 cm
Quest Travel: 10.9 x 21 cm
80 pages of 2 notebooks (Blank and Dotted)
For full specifications, you can check the SPECIFICATION TAB

PACKAGE INCLUDES:

1x Dare to Be Card of your choice
1x Quest Holo size of your choice